Most of the people in Thailand and even those who are not Thai but are very familiar with their culture would agree that the most popular food in the country is Tom Yum. It basically sums up the entire palate of the Thai culture.
It's essentially a shrimp soup with a very rich and tasty broth. But it's not like your ordinary seafood soup. Aside from making use of fresh vegetables and special seasonings, the balance of flavors and ingredients boiled to the right texture and consistency is the secret to making a classic tom yum soup.
Aside from the ingredients, you also need a good bowl to serve your perfect soup in. The Aluminum Thai Hot Pot Tom Yum Serving Bowl is specifically designed for serving hot tom yum soup and it's one of the best tom yum soup bowls you can find in the market.
Its aluminum material is designed to retain heat to keep your soup at the right temperature. The structure of the soup bowl is designed such that it would look nice and neat on the dining table.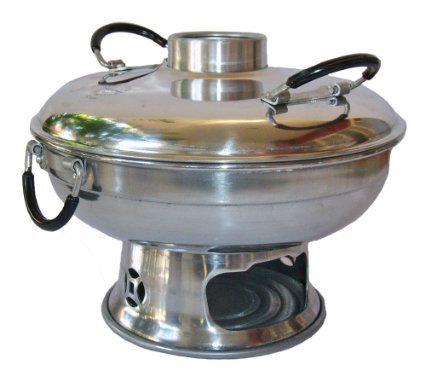 Key Features
This item is fairly new in the market and it hasn't received a lot of feedback yet but if you place it side by side with other best sellers, you'll see it has almost the same features. To give you an overview of this product, here's a list of some of Aluminum Thai Hot Pot Tom Yum Serving Bowl features:
High-quality aluminum material intended for good thermal properties and heat retention
Energy efficient, can be used with either an alcohol burner or charcoal to keep the soup hot
Size appropriate, serving enough for 3-5 persons
Handles and lid are designed for safe and easy handling
Can be used for indoor or outdoor events
Pros
This Aluminum Thai Hot Pot Tom Yum Serving Bowl is made of high-quality aluminum that allows the soup to stay hot for as long as possible and maintain the soup's rich and tasty flavor. It is very energy-efficient and can be heated using just an alcohol burner or charcoal.
The dimensions of this soup bowl are just enough for about 3-5 servings. It has a 22 cm width and 18 cm height – a size just enough for a medium-sized table. It has 2 other size options which you can choose from depending on how many guests you're expecting.
The bowl is complete with coated, heat-resistant handles and a tight lid for easy handling. This bowl can be used for indoor and outdoor events. It is lightweight and is very easy to bring to picnics. It has an excellent design that makes it pleasing to look at on the dining table during intimate dinners with family or friends.
Cons
Since this is a fairly new product and there isn't a lot of feedback for it yet, the only thing that can be considered as a drawback would be its slightly expensive price.
Comparison
With all the features that the Aluminum Thai Hot Pot Tom Yum Serving Bowl has, it's easy to put it side-by-side with the Thai Tom Yum Heated Serving Pot, which is one of the bestsellers in the market currently. The latter is available at a cheaper price but it is also smaller in terms of dimensions.
Verdict
Considering all of the features of the Aluminum Thai Hot Pot Tom Yum Serving Bowl, it is easy to see how this could become another bestseller. It has all the amazing features that you are looking for in a hot pot serving bowl and it is available at a reasonable price. It allows you to make delicious tom yum soup and keep it heated for a better meal experience.