Who doesn't loves pancakes, right? And when we talk about pancakes, nothing beats the world-famous pancake recipes from Denmark.
One of Denmark's most favorite and popular types of pastry is the aebleskiver, which is basically a combination or a cross between a donut and a pancake.
They are like pancake balls with a light, melt-in-your-mouth texture that will change your impression about commercial donuts.
If you are interested in making them, you need a pan designed for making these pancake balls. One of the most popular items you can find in the market is the Kanom Krok Pan | Cast-iron Aebleskiver Pan.
This pan is designed to make aebleskivers in the easiest, most exciting way. Made of high-quality cast iron, this pan is expected to last for more than two years.
Aside from being an excellent pan for making aebleskivers, it's also great for making Japanese takoyaki and Thai Kanom Krok.
It is very easy and safe to use, and even children can cook with it. For a little over 30 bucks, you'll get a pancake buddy that will help you make the most delicious pancakes ever.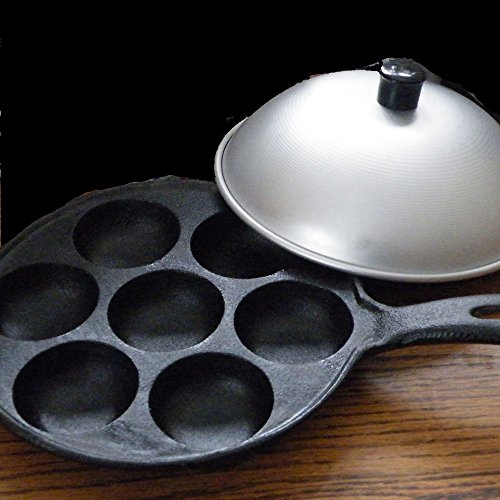 Key Features
If you look for this product online, you'll find that it has received a lot of positive feedback from customers who were able to experience the Kanom Krok Pan | Cast-iron Aebleskiver Pan firsthand. Aside from its very affordable price, there are other features that make this pan such a best seller.
Thai Kanom Krok pan with lid and safety handles
Cast-iron aebleskiver pan
Easy to use
Makes great aebleskivers
Also good for Japanese takoyaki.
Fun to use with children who like to cook.
Dimension 7″ with 7 holes
Pros
The Kanom Krok Pan | Cast-iron Aebleskiver Pan surely gives your pancake a twist. It is made of cast iron that is not chosen just for its thermal conductivity properties but also for its excellent cooking properties. The material not only cooks the pancake well, it also retains its delicious flavor.
The pan is designed with lid and safety handles that make it really safe to use. It is so safe that even children can cook pancakes with it. It's often used in culinary classes for children.
The pan is 7 inches in diameter and there are seven holes in it. Most people use it for aebleskivers but it is also used for making Japanese takoyaki as well. It is very easy to use and clean afterwards. The cast iron makes it really easy to clean spilled batters. You can guarantee it will last long because the pan is easy to clean and maintain.
Cons
The size for the holes makes it more suitable for aebleskivers. A slightly smaller hole diameter would make it an excellent takoyaki pan.
Comparison
There are many pancake pans available in the market. One product that almost has the same features as the Kanom Krok Pan is the Norpro 3113 Cast-Aluminum Nonstick Aebleskiver Stuffed –Pancake Pan.
It has the same shape and design, and it also has about the same dimensions as the Kanom Krok Pan. The main difference of the two is that the latter is made of cast-iron while the other is made of cast-aluminum. When it comes to thermal properties, cast-iron gives better results.
Verdict
With the many products available in the market today, it's really hard to find a pan that is as good as the Kanom Krok Pan | Cast-iron Aebleskiver Pan. For a little over thirty bucks, you'll get a high-quality cast-iron pan that you can use in making tasty and yummy pancakes, not to mention awesome takoyakis as well.
The high-quality materials used in making this pan is the reason why it is so sturdy and durable. Since it is very easy to clean, there are no hassles in maintaining this pan and keeping it in store.